In case you weren't aware, Valentine's Day was last Friday. I love Valentine's Day! Of course, I haven't had a Valentine's Day single since 9th grade, but that's besides the point. I love the love that pours out of everyone on this day, as if we were all reminded that it is okay to tell people how much you care about them.
Last year, I gave Jeromy a present every day leading up to Valentine's Day. This year, I was not as ambitious. He, however, outdid himself with an awesome evening and tickets to go see Kings of Leon and Local Natives in New Orleans the day after my birthday! 🙂
Friday night, we went to a local wine.. bar? restaurant? store? All of the above. Bacchanal Wine was the perfect setting for a great evening.
This is how they describe themselves:
Bacchanal is a wine laboratory where food music and culture collude with Holy Vino to create the most unique evenings you will ever experience in New Orleans Ninth Ward.
Yep, the Ninth Ward. Pre-Katrina, the Ninth Ward was the scariest place in New Orleans. Seriously, even the police didn't want to go around there. In fact, this is where Lil Wayne grew up. Luckily, the Bywater was one of the only places that didn't flood in the Ninth Ward when Katrina hit. Today, the Bywater is a bustling hipster area, with local musicians and artists abounding.
When you walk into Bacchanal Wine, the first thing you'll see is racks and racks of bottled wine. The entrance is a store where you can purchase local and imported wines. When you purchase your wine and cheese plates, they give you wine glasses for you to use for the night. Thus, everyone is walking around drinking their bottles of wine and it's awesome.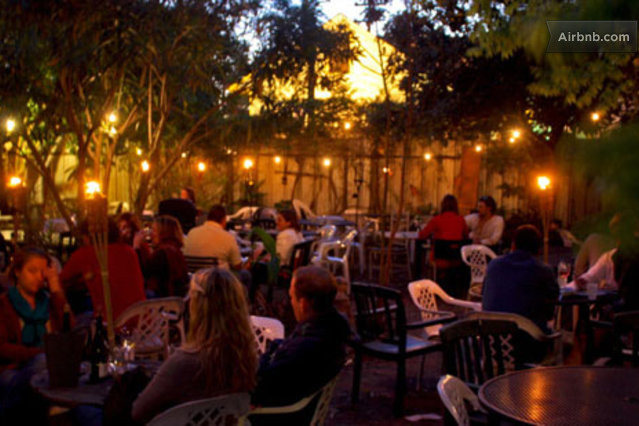 Walk outside to the backyard, where mismatched tables and chairs sit under a canopy of lighted trees. Finding a table outside was difficult, since they had a live jazz band playing and oh, it was Valentine's Day. We waited in line to order food from their gourmet menu. We decided on the hanger steak, which was OMG amazing, but definitely not enough for us to split for supper. Once we ordered, we made our way upstairs to the recently renovated bar and seating area.
The bar has a few cocktails, which is the route we decided to go. I got the Bleeding Heart (irony!) and Jeromy ordered the Infidel. Both were yummy, but I think I liked Jeromy's better. Then we found a seat in the candlelit room. It was beautiful and romantic and perfect.
I am in no way affiliated with Bacchanal Wine, but my goodness, I recommend it wholeheartedly. It's a great place to go on a date or with a group of friends. It has the upstairs tables for a romantic view, or the backyard lounge that is perfect for hanging out with friends.
*Disclaimer: All of these photos were found via Google because Jeromy and I had a no phones policy during this date!*