"You only get one life. It's actually your duty to live it as fully as possible."
― Jojo Moyes, Me Before You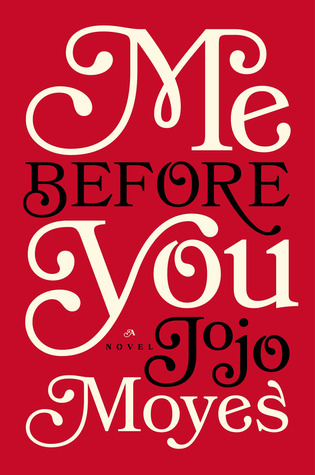 Book Title: Me Before You
Author: Jojo Moyes
Publication Date: 2012
Genres: Realistic Fiction, New Adult Fiction
Goodreads Rating: 4.32 Stars 
My Rating: 4.0 Stars
Louisa Clark is an ordinary young woman living an exceedingly ordinary life—steady boyfriend, close family—who has never been farther afield than their tiny village. She takes a badly needed job working for ex-Master of the Universe Will Traynor, who is wheelchair-bound after an accident. Will has always lived a huge life—big deals, extreme sports, worldwide travel—and now he's pretty sure he cannot live the way he is.
Will is acerbic, moody, bossy—but Lou refuses to treat him with kid gloves, and soon his happiness means more to her than she expected. When she learns that Will has shocking plans of his own, she sets out to show him that life is still worth living.
A love story for this generation, Me Before You brings to life two people who couldn't have less in common—a heartbreakingly romantic novel that asks, What do you do when making the person you love happy also means breaking your own heart?
1. Assisted Suicide. Woooo. I know that grabbed your attention and made you say YES I NEED TO READ THIS BOOK! Seriously though, this is a hot-button topic that oddly pulls at my heartstrings. While I know you aren't really interested in hearing my political views on this, just know that the book deals with this subject AND really presents an interesting view on it. I enjoyed watching it play out.
2. Caretaker loving up on her patient. Ok, well, of course this was going to happen. It's a love story, after all. However, I thought it was done sweetly and tastefully. You can tell that Lou really cares about Will, and Will is such a lovable guy (when he's not being a butthole), that it's hard not to root for them.
3. Excellent writing. Seriously, the story was written so well, and the characters were so developed. There were two or three chapters that were written from different points of view, and, instead of distracting from the novel, it really added some spice and curiosity to the whole story.
While it wasn't a page-turner, it definitely captured my interest, and left me thinking long after the novel was over.
"I will never, ever regret the things I've done. Because most days, all you have are places in your memory that you can go to."
"Push yourself. Don't settle. Wear those stripy legs with pride. And if you insist on settling down with some ridiculous bloke, make sure some of this is squirreled away somewhere. Knowing you still have possibilities is a luxury. Knowing I might have given them to you has alleviated something for me."
"I hadn't realized that music could unlock things in you, could transport you to somewhere even the composer hadn't predicted. It left an imprint in the air around you, as if you carried its remnants with you when you went."